(In this tutorial, I will be showing you how to bridge host in Halo 3 using the crossover cable method)
What is Crossover Cable Bridging? It is when you bridge your Connections directly through your computer so that you don't need Cain and Abel or any other program. This allows you to give someone else host in Halo 3.
Requirements
Crossover Cable
If you don't know where to get one then make one
Zone Alarm (Pro or Regular/free)
Commview (Not a Necessity)
Two Network Cards(NIC) in your Computer
(You should already have one, it is the thing that you plug an Ethernet into)
Before you get started:
You should already have your Ethernet port installed inside your computer and have the software for it installed on your computer properly.
_______________________________________________
How to Bridge Your Connections
Step 1. Make sure you have your Ethernet cord going from your modem/router to your PC, then have your Crossover Cable going from the PC to the Xbox
Step 2. go into your network connections via the control panel. There should now be two connections. Hold the CTRL key and click the two connections, they should both now be highlighted.
Step 3. Right click either connection to pull down the menu, and pick BRIDGE CONNECTIONS.
Tada, you have bridged your Xbox to your computer, now you are ready to set up Zone Alarm and get closer to bridging your friend host!
________________________________________________
Setting Up Zone Alarm
Step 1:
Open Zone Alarm (A-Duh)
Step 2:
Just for safe keeping, turn your firewall off (make sure you dont have hackers out to get you at this time).
Step 2:
Go to your rules(Zones) tab. First thing we wanna do is set your current network from Trusted to Internet. To do that, right click on "Zone" and select "Edit":
Now, a small window should pop up. All you have to do is change it from "Trusted" to "Internet" and then press "OK"
Step 3:
Now it should be on "Internet", and your window should Just have the New Network IP and the Zone should be on Internet.
Step 4:
Now, time to add IPs. First you need to add Bungie's IP Ranges(65.59.234.0-65.59.234.255 and 65.55.42.0-65.55.42.255).
To add IPs, go down to the bottom-right hand corner and click on "Add>>" and select "IP Range...":
Step 5:
Now a small window should pop up, here is where you input the IP Range:
Step 6:
Here is where I put in one of Bungie's IP Ranges. You can name it whatever you want: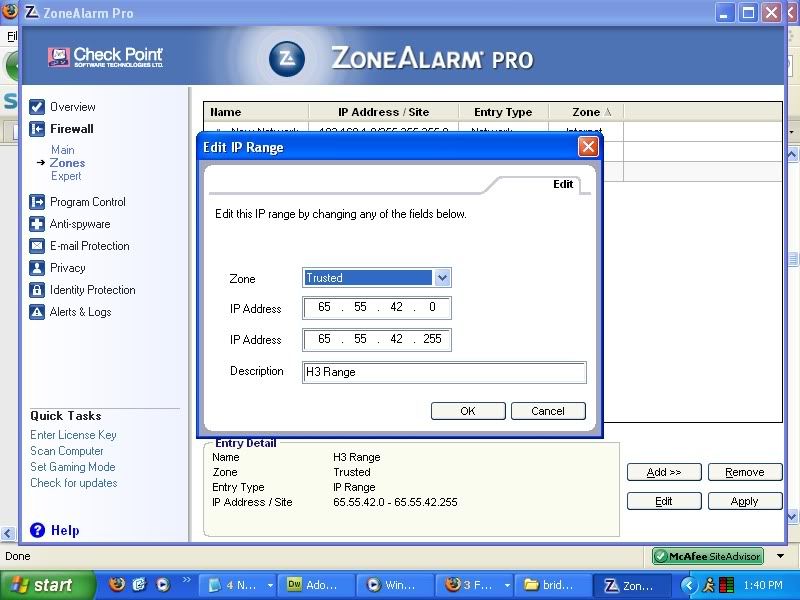 Step 7:
Here is where I put in the second of Bungie's IP Ranges. You can name it whatever you want: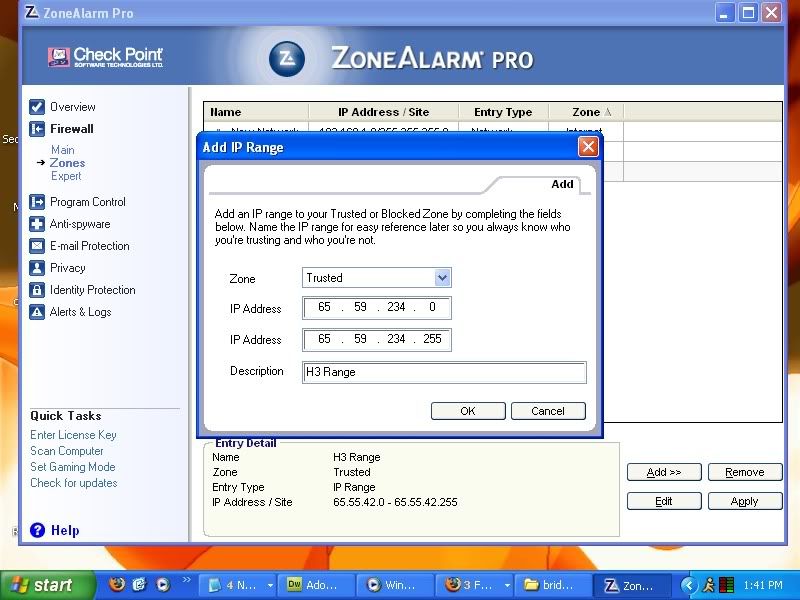 Step 8:
Here is where you put your friends IP. (If you don't know how to get his IP, just look here -
http://insomniacgamerz.net/forums/index.php?topic=57.0
or tell him to go to IPchicken.com). Just for example, I'm gonna input a random IP. Make sure you have the right IP(s) also. You can make the description whatever you want:
Step 9:
Now, make sure the Zones in "Trusted" and then press "OK", your window should now look similar to this: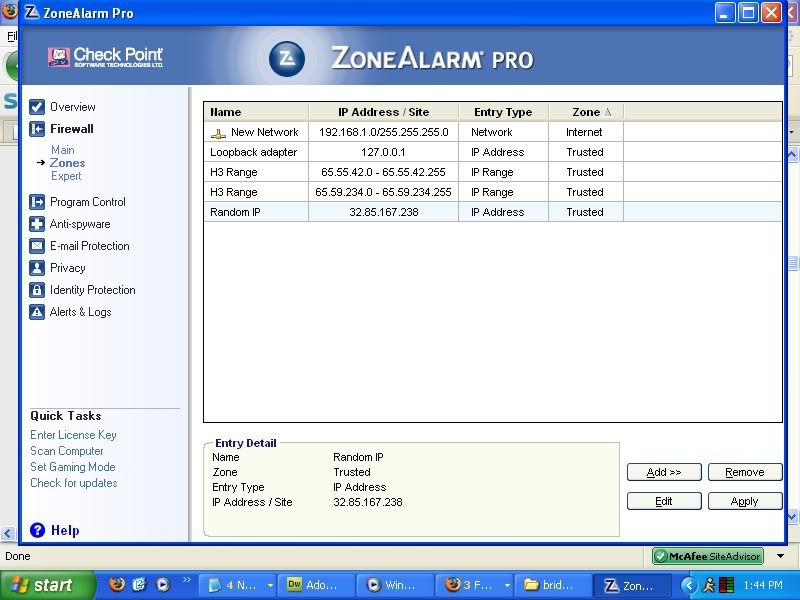 Now, make sure you save the changes by either clicking another and and selecting "OK" at this prompt:
Or, on the bottom-right and corner press "Apply," If you do this, it sill be saved and you wont see the prompt above:
Step 10:
Now click on the "Main" tab towards the top of the ZAP Firewall.
__________________________________________________ ____
Bridging Someone Host
Now that you have ZA set up and your friends IP you are ready to bridge your Friend host.
Step 1:
Tell your friend to go make a party.
Step 2:
Put your firewall on high.
Step 3:
Join your friends party.
Step 4:
Start the game and start searching for a match.
Step 5:
Pay attention to your TV screen, but have PATIENCE as it could take a while to find a game. When you finally do get a game, and people start joining (the yellow boxes start to fill up), get your firewall tab and get ready.
When it gets to "CONFIGURING GAME" or when the images of buttons in the lower left hand part of your screen disappear : Wait 1-2 seconds, and then LOWER YOUR FIREWALL TO MED.
Step 6:
Experiment with times between 2-6 seconds and then put your firewall back on high.
If done correctly, your friend should have host in the game. You have to experiment with times that should work for step 6 because you have no way of accurately doing it. If you get the Network Difficulties screen, then you need to lower your firewall as fast as possible because you messed up and your friend doesn't have host. If you don't lower your firewall then you will lag out, if you do lower it then you will stay in the game, but your friend won't have host.
Twis7eD © 2009 InsomniacGamerZ.net
Use of this tutorial is not permitted unless proper citation and/or credit is included. We know people love to rip tutorials.