Rainbow Six Vegas 2 - Mod Tool

Xbox360 Profile and GPD Editor
Created by JizzaBeez
How to use:
1) click "file" then "Open Profile" to open your Xbox360 PROFILE. or click "file" then "Open GPD" to open your RSV2 GPD.
2) if you have a very large file then wait for it to load...
3) once loaded, make any changes.
4) then click "file" then "save" to save your file.
5) Rehash and Resign the PROFILE after editing. or inject the GPD into your Profile and then Rehash and Resign the Profile.
Note:
If you're going for the achievements then be sure to edit the value (whichever you're going for) to one less than what the achievement calls for, then play the game and get one more of that in-game and the achievement unlocks. If you go over the required value for an achievement to unlock - then it never will, so BE CAREFUL!!! In other words - you will end up with achievements out-of-order and that's not good...
Images:
(loading)
(loaded)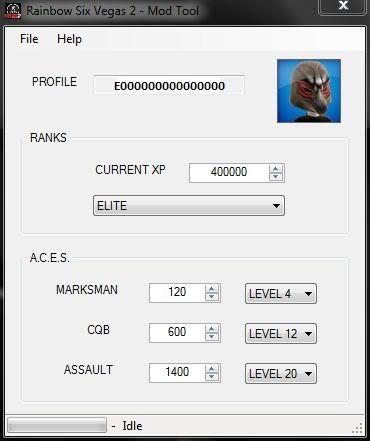 Report any Problems
Download:
Code:
http://www.mediafire.com/?56b322e11i6z4f4